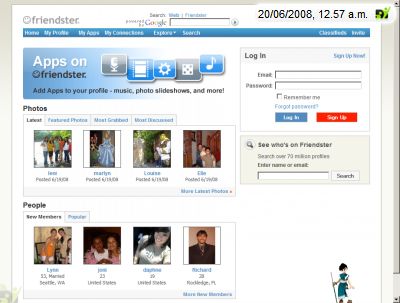 Screenshot with weblin Publisher
The weblin Publisher - a feature which I can no longer imagine being without in everyday Internet life - has been online now for about a month!

With the weblin Publisher, you can send emails with screenshots and links directly from weblin, you can blog, directly with screenshot and link to the screenshot, and you can twitter. It's a super easy multi-publisher.

How it works? Let's take the email for example. I don't know whether you too know the situation but I often come across websites where the content could also be of interest to others. So I would like to send this site to someone by email. Normally, one would have to open an email client, copy the URL and, if you want to send a photo too, you also have to open a graphics programme, make a screenshot, perhaps have to edit it. All very time consuming. I can get that all done now in just 5 seconds as easy as pie. All I have to do is simply click on the menu item "applications/send website as email" in my weblin butler, select the profile created or click on the email address of the recipient and then on send. That's it! The recipient gets an email from me with a screenshot and deeplink to the website and, if I want to leave a message, he or she gets that too. If I wish to, I can first edit the screenshot in the Publisher – also very easy. I can create various profiles, also an email distribution list. This way, I can quickly send an email to the whole sales team, the whole team of developers or to my friends.

With the weblin Publisher, blogging or twittering is just as easy. I simply set up my wordpress or blogger.com profile and then I can post directly to my blog, with screenshot, with tags with headline and with link without having to first log into my blog provider. Quite smart! Since the Publisher has been available, I have been blogging more often and I almost always have a photo in the post making the blog post so much more interesting for the reader - if one is to believe all the statistics and surveys. Yes and you can also twitter this way and even manage and add to your various twitter profiles.

And there is a gimmick to top it all – screenshots and links posted with the Publisher or sent by email can be sent at the same time with a weblin.lite. This means that anyone clicking such a link and who perhaps has not yet installed the weblin download software becomes visible as avatar, i.e. gets a weblin.lite. So, if one of my friends, for example a Mac user, gets an email from me, clicks on the link I have sent him by Publisher, we meet on the link as avatars and can chat to one another – he is in Saarbrucken and I am in Hamburg. But, what the heck, the Web is a village – for us weblins.

Would you like to try it out? Just click the screenshot.